SEASON PASSES ON SALE NOW FOR JUST 59.99!
Purchase your season pass now for the incredible price of just $59.99 plus tax!  But hurry this sale price won't last long.  A season pass is the perfect Christmas gift – laughing, splashing fun all summer long.
What does your 2019 season pass include?
Unlimited visits to Beech Bend Park and Splash Lagoon
Free parking all season
Free sunscreen and tubes to all of our guests
2 "Half Price Vouchers" to bring a friend, good any day the park is open.  A $38 value!
2 "Bring a Friend for Free" select days!  A $76 value!
A Buy One, Get One free small Dippin' Dot
A Buy One, Get One coupon for a Go-Cart ride
A Buy One, Get One coupon for a Lazer Fury 360 ride
One free Birthday Party ticket when you purchase 10 or more
20% off a Kentucky Rumbler photo package
20% off one item in the gift shop (excludes rentals)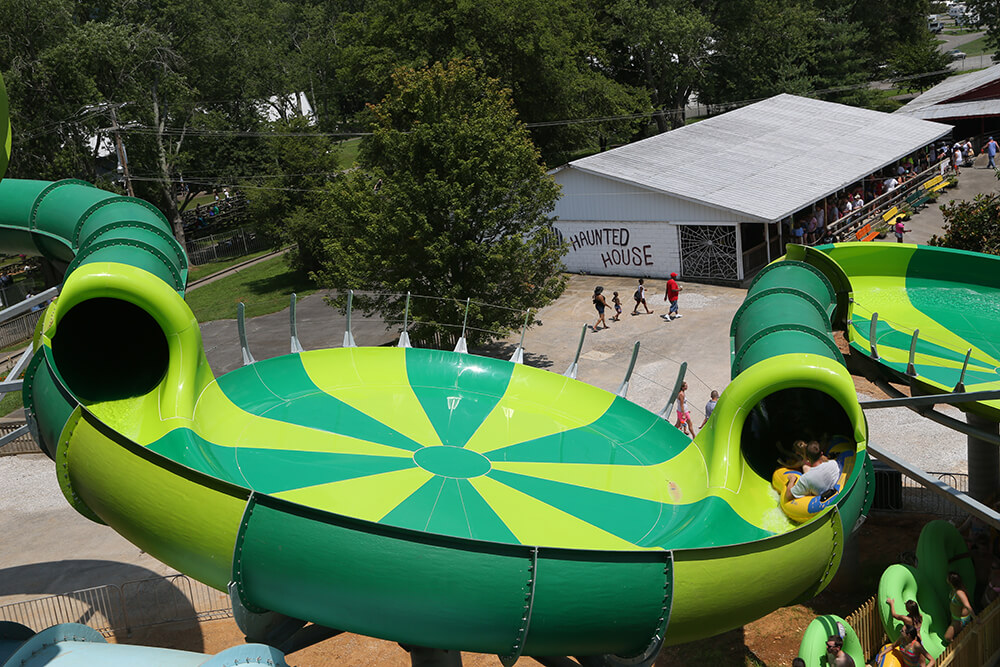 Golden Ticket Awards – Cyclone Saucers named Top 3 Best New Water Ride
In a ceremony held recently, the 19th annual Golden Ticket Awards were announced. The Golden Ticket Awards were presented by Amusement Today. Amusement Today is the world's leading amusement park/water park business journal. The Golden Ticket Awards have become the industry's most prestigious awards, equivalent to the "Oscar." Beech Bend Park and Splash Lagoon's "Cyclone Saucers" received high marks in the "Best New Water Park Ride" category. "Cyclone Saucers" tied for the No. 3 spot for the new water slide, the first of its kind in North or South America. "Cyclone Saucers" is part of a new four slide complex opened in 2016. Beech Bend's Kentucky Rumbler was also ranked as the 48th Best Wooden Coaster in the world! "Hundreds of wooden coasters were considered for these awards. We knew we had a winner with the Kentucky Rumbler the very first time we rode it, but it is gratifying to know the rest of the world agrees," commented Dallas Jones, park president. The Kentucky Rumbler has ranked in the Top 50 every year since it was built in 2006. The Kentucky Rumbler was built by Great Coasters International, Inc. Go to the Rides and Attractions page for fun coaster facts.
History Making Splash Lagoon Expansion a Big Hit!
BEECH BEND RAW – UNEDITED from Trevor George on Vimeo.
Beech Bend Park's largest water park expansion in park history is NOW OPEN. The multi-million dollar expansion includes Cyclone Saucers, the FIRST EVER North American installation of ProSlide's FlyingSAUCER ride. This history-making, ground breaking water slide will offer a very unique ride experience. Riders will fly around the edge of three "flying saucers" at high speeds. At nearly 500 feet long with a 55 foot elevation change, Cyclone Saucers is truly a one-of-a-kind experience.
Special School Field Trip Education Days Make Learning FUN!
Special School Field Trip Education Days are available in early May and early June at the special school rate of just $19.99.  Add a lunch ticket for just $4 more!
School Group Dates for 2019:
Beech Bend Park Only – May 4, 9, 10, 11, 16, 17, 18, 19, 23 and 24
Beech Bend Park and Splash Lagoon – May 18, 19, 25, 26, 27, 28, 29, 30, 31 and June 1 through 7
A school field trip to Beech Bend Park is both educational and fun. We offer a special magic show promoting self-esteem and drug awareness and also can provide a Science Guide for students and teachers.  Please call the Park office at 270-781-7634 for more information.
Get a great deal through one of our hotel partners!