Friday Night Lights continues in 2021! Just $15 on Friday nights.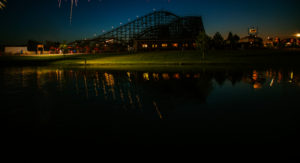 Back by popular demand, enjoy Beech Bend Park in the dark. You'll be amazed by the dazzling lights that create a whole new park experience. Conquer the unexpected twists and turns of the pitch black Kentucky Rumbler or be amazed at the spectacular light displays of Air Race or Vortex. "We have been purchasing rides with beautiful, LED light packages for the past few years, and we are excited to show them off from Memorial Day weekend through the last week in August. This year our guests will get to enjoy Friday nights beginning with the Friday of Memorial Day weekend as we celebrate "Friday Night Lights", commented Park President, Dallas Jones. Enjoy all the rides in Beech Bend Park for the family-friendly price of just $15 plus 6% sales tax from 5:00 to 9:00 pm Friday nights beginning May 28. Your special Friday night ticket also includes Splash Lagoon Water Park from 5:00 until 7:30pm from May 28th – July 30th!
Upcoming Events
12th Annual Band and Choral Festival Cancelled Due to Covid 19
Each year hundreds of band and choir students come to Beech Bend Park to compete in the Band and Choral Festival.  The 12th annual Festival scheduled for May 7th and 8th, 2021 has been cancelled due to the Covid 19 pandemic.
The date for the 2022 Band and Choral Festival will be decided at a later date.  Two days of band and choral competition is normally scheduled.  Each day is a separate competition so each group can choose the date that works best for them.  The adjudication takes place on Beech Bend Park's WBKO Entertainment Stage.  Each group receives a trophy with the rating of superior, excellent, good or fair and will be ranked within their division.  Groups can enjoy all the rides and attractions Beech Bend Park has to offer before and after their performance time.  All groups come together at the end of the day for an Awards Ceremony.
Special Girl Scout & Boy Scout Days
Beech Bend offers special pricing for Girl and Boy Scout groups.  Please call our sales representative Sherry Clouse for special Scout pricing and dates.