Big Bucks Bracket Racing returned to Beech Bend Raceway over the weekend during the Quick Fuel #TenGaBG Bracket Series!  And it was a packed house with Over 300 Entries in competition each day and over 400 on Saturday alone.  Thank you to all that came out and raced with us this weekend. 
Friday's race was met with some challenges as two rain showers moved through the area during time trails but the track crew did not give up as the afternoon and night time forecast looked favorable.  Friday's race went into the wee hours of Saturday morning and was stopped during 3rd round then resumed Saturday morning.  Friday's race saw Jesse Bobo and Mike Bloomfield Jr. in the final round where Bobo took the first $10Grand win of the weekend!  Larry Martin was the lone semi-finalist.
 
Saturday's Big Bucks race started with over 400 entries and came down to a dragster/door car final round.  Larry Martin drove his Camaro to the final round where he squared off with Erica Baker in her Dragster.  Baker went .007 and 4.574 (4.56 dial) to beat Martin's .017 and 5.571 (5.56 dial) to take the win making it two finals in a row for the dragsters.  Luke Bogacki and Mason Rochelle were semi-finalists.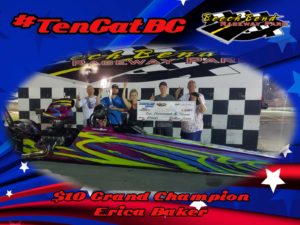 Sunday marked the final 10 Grand race of the weekend where we once again saw over 300 entries making the call for first round.  Cody Graham and Rusty Fox met up in the final round in another dragster/door car final.  Graham kicked it -.001 red and Rusty Fox parked his digger in the winners circle making it a 100% dragster winning weekend which hasn't been done in many years! 
Once again THANK YOU to everyone that raced with us this weekend!