2021 Regular Park Admission Prices:
Adult Admission – 48 inches and above: $37.99 plus 6% sales tax
Child Admission – Under 48 inches: $31.99 plus 6% sales tax
Senior Adult – Age 60 & over: $31.99 plus 6% sales tax
Children 2 & under: FREE
Military Members – Active, Retired or Veteran: FREE all year with valid military photo ID
FREE Parking, FREE Sunscreen and FREE Tubes Every Day!
You can now buy one day tickets on-line. Benefits of buying your tickets online include:
One Day Online Ticket just $34.99 for an adult or $29.99 for a child or senior.
Your tickets are emailed to you. Print at home at your convenience!
Avoid ticket lines at the park; walk straight up to the turnstiles and get to the fun faster!
No processing fee for buying online.
Surprise a friend or family member with the best present ever!
Park admission includes unlimited rides (excluding go-carts and Lazer Fury 360), Gold Rush Golf, Splash Lagoon Water Park (in season), daily live entertainment and fireworks on select days.  Park admission does not include games. A $2 refundable deposit is required to play Gold Rush Golf.
HAVE TWICE THE FUN!  TWO DAYS of FUN for JUST $39.99 with the TWO DAY PLAY PASS!
Get your TWO DAY PLAY PASS for only $39.99 at the main ticket gate or online below! Can be used any 2 days within a 7 day period.  Each Two Day Play Pass is valid for 2 one-day admissions for the same person.  The ticket must be used both times within a 7 day period.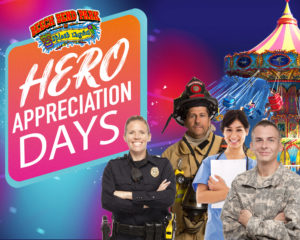 Hero Appreciation Days 2021!
Beech Bend Park & Splash Lagoon appreciates all those who serve to keep our community safe and would like to show our appreciation by offering free admission to all active fire and police personnel, front line healthcare workers and military personnel on Saturday May 8th and 15th and on Sunday, May 16th.
Heroes who qualify for free admission include health care workers, police officers, firefighters, EMTs, state troopers, correction officers, 911 dispatchers, and other professionals involved in law enforcement and emergency response and military members, active and retired.  Hero tickets must be purchased at the park and do not require a reservation.  Heroes may purchase up to 6 additional tickets at half price during this event at the park's ticket window.
Professional credentials, along with a valid government-issued photo ID must be presented at time of purchase to take advantage of this offer. Badges and identification cards are accepted only if accompanied by photo ID. All IDs must reference specific fire, police, military, or healthcare duty. Expired IDs will not be valid. This offer may not be combined with other offers.
Daily Sundown Special!
Don't have a whole day to spend with us? Save big with our Daily Sundown Special every day after 3 PM!
Save $12 on Adult Tickets after 3 PM
Save $8 on Child/Senior Tickets after 3 PM
Friday Night Lights continues in 2021!
Just $15 plus 6% sales tax on Friday nights.
Back by popular demand, enjoy Beech Bend Park in the dark. You'll be amazed by the dazzling lights that create a whole new park experience. Conquer the unexpected twists and turns of the pitch black Kentucky Rumbler or be amazed at the spectacular light displays of Flying Bobs and Vortex. We have been purchasing rides with beautiful, LED light packages for the past few years, and we are excited to show them off. This year our guests will get to enjoy Friday nights beginning with the Friday of Memorial Day weekend. Enjoy all the rides in Beech Bend Park for the family-friendly price of just $15 plus 6% sales tax from 5:00 to 9:00 pm Friday nights beginning May 28th. Your special Friday night ticket also includes Splash Lagoon Water Park from 5:00 until 7:30pm from May 28th – August 27th!
2021 SEASON PASS on Sale Now for JUST $59.99
Buy your 2021 season pass now for 50% off.  Just $59.99 for laughing, splashing fun all season long!  FREE parking and FREE sunscreen with every pass plus awesome park perks – see perks below.  
What does your 2021 season pass include?
Unlimited visits to Beech Bend Park and Splash Lagoon
Free parking all season
Free sunscreen and tubes to all of our guests
2 "Half Price Coupons" to bring a friend, good any day the park is open.  A $38 value!
2 "Bring a Friend for Free" tickets valid any day of the season!  A $76 value! (Pass holder must be present to use.)
A Buy One, Get One free small Dippin' Dots
A Buy One, Get One coupon for a Go-Cart ride
A Buy One, Get One coupon for a Lazer Fury 360 ride
20% off one item in the gift shop (excludes rentals)
There simply is no other pass that can match those perks!
Season Pass holder must be present and show pass to redeem these offers.
Four Easy Ways To Pay:
Online: The BEST, FASTEST, and, EASIEST way to pay! Buy now and print your certificate off at home!
By Phone: Call the park office at 270-781-7634 to purchase (Master Card, Visa, or Discover only).
By Mail: To pay by check or money order, download the order form below and mail to 798 Beech Bend Park Road, Bowling Green, KY, 42101.
In Person: Stop by the park office!
There is an inherent risk of exposure to COVID-19 in any public place where people are present. For the safety of all guests and employees, we have increased all health and safety measures. The CDC advises that older adults and people of any age who have serious underlying medical conditions might be at higher risk for severe illness from COVID-19. Guests should evaluate their own risk in determining whether to attend. People who show no symptoms can spread COVID-19 if they are infected, any interaction with the general public poses an elevated risk of being exposed to COVID-19. By visiting the park, you are voluntarily assuming all risks related to exposure to COVID-19.
Get a great deal through one of our hotel partners!