Our Family Favorites include classic rides and attractions that the whole family can enjoy.  We have traditional rides like the Tornado, Bluegrass Breeze, Haunted House, and Tilt-A-Whirl.  We also have some unique rides that are very popular, like Scat II.  You definitely don't want to miss out on any of these Family Favorites!
Bumper Cars

How are your driving skills? Grab the wheel and either go solo or bring a friend along to determine who is the the best bumper of them all on this classic family ride.
Height Requirements: Must be 48″ to drive, All passengers must also be 48″
Antique Cars

Enjoy this classic family ride. Become the driver and stay on course, or sit back and relax as your chauffeur takes you through the beautiful scenery at Hubcap Alley.
Height Requirements: Must be 48″ to drive, Passengers can be of any size
Bluegrass Breeze Swing

Bluegrass Breeze Swing Carousel is an iconic addition to Beech Bend Park. This Italian made, hand painted swing is a masterpiece to admire and quite a thrill to ride. Located in the front of the park, Bluegrass Breeze will rise up over three stories while rotating and oscillating.
Height Requirements: 48″ to ride
Dizzy Dragon

This one is not for those with weak stomachs. Jump into the belly of the dragon and spin until there's no tomorrow. Just be careful; getting off is sometimes the hardest part.
Height Requirements: 32″ with adult or 42″ to ride alone
Flying Bobs

This classic Himalaya-type ride is sure to offer thrills to children and adults of all ages! Hop aboard your swinging car and race both forwards and backwards on this high speed action thrill ride!
Height Requirements: 42″ to ride
Go Carts

Test your driving skills on the Go Carts, located near the park entrance.
Height Requirements: 60″ to drive. Passengers can be any height as long as they can sit up and safely wear a seatbelt
Tickets are REQUIRED for this ride. The ride is not included in park admission.
For a driver, a $5 ticket is required. For a passenger, a $3 ticket is required.
The ride duration is approximately 5 minutes for the listed ticket amounts. Tickets are sold at the Dippin' Dots stand adjacent to the Speedway.
Gold Rush Golf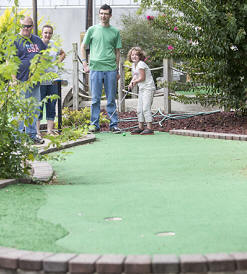 Enjoy a game of miniature golf during your day at Beech Bend Park. Play the beautiful 18-hole course under multiple shade trees. It's the perfect way to take a rest from the rides and still have fun.
There is a $2.00 deposit per person to play to cover the ball and club rental.
When the items are returned at the end of the game, the $2.00 will be returned in full to each player.
Grand Carousel

We're sorry, but the Grand Carousel will be closed indefinitely for a major restoration project.  Please enjoy our many other attractions.
The majestic Grand Carousel adds to the park's beauty, as it sits directly adjacent to the pond. At four horses abreast and with the capacity to seat 60, this classic family ride is sure to please all of its riders.
Height Requirements: Anyone may ride
Granny Jones Petting Farm

Goats of all sizes and shapes, from babies to mommas, will greet you as you enter the farm. Pet all of our goats and all the other animals at the farm, and don't forget to feed them!
A cup of feed can be purchased for just $0.25 at the farm to feed the friendly animals.
Haunted House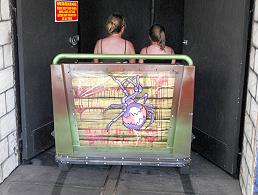 Get ready for the Haunted House! Take it on by yourself or grab a friend to venture through the creeps and corners of this spooky attraction. The newly renovated Haunted House will scare you silly! And try not to scream too loud as you pass by the ghouls and goblins on this ride-through attraction.
Height Requirements: 32″ with adult or 48″ to ride alone
Hip-Hop Drop

Parents and kids alike, climb aboard the Hip-Hop. It may look like a kiddie ride, but it is sure to offer a thrill to all those who ride. Jump on the 30 foot tower that blasts you up and down on this family fun ride.
Height Requirements: 36″ with adult or 42″ to ride alone
Scat II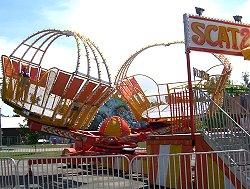 The Scat II is a one-of-kind thrill ride. Riders sit in two tubs, accommodating 10 passengers each. The center then spins around, as do the tubs, giving the riders two forces, flattening the riders to the walls of the tubs.
Height Requirements: 42″ to ride
Sizzler

The Sizzler resembles a classic Scrambler ride. It may be similar, but it's just not the same. Rotate on 3 turbines holding 4 cars each. Experience high speeds and intense g-forces on the Sizzler. (Click on the image to the left to view an on-ride video of the Sizzler!)
Height Requirements: 44″ with adult or 52″ to ride alone
Spinning Out

Spinning Out is our brand new family roller coaster. It is themed like a race car, spinning out of control in a spectacular back to back seating configuration. Each car holds four people, a perfect size for the entire family, and the cars will spin freely throughout the ride, delivering different ride experiences each time the weight distributions change! Spinning Out will surely become a favorite for kids and parents alike!
Starship 4000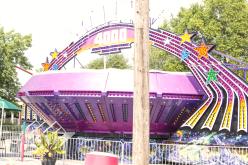 The Starship 4000 is an intense, gravitron type ride. Riders stand upright in the spaceship car which accommodates 45 passengers. The ship then spins counter-clockwise reaching rotational speeds of 30 rpm, as the riders slide up and down the car's wall.
Height Requirements: 42″ to ride
Tea Party

Try not to get too dizzy as you jump onto The Tea Party. Our family sized Tea Party will drive you wild; it's fun for the whole family! Grab the wheel and spin, or just sit back and relax.
Height Requirements: Anyone may ride with adult or 36″ to ride alone.
Tilt-a-Whirl

The classic Sellner Tilt-A-Whirl ride is a family favorite and has been at Beech Bend for several years. Jump in one of the spinning cars and hold on tight. Just be warned, riding after lunch could result in a Tilt-A-Hurl!
Height Requirements: 32″ with adult or 46″ to ride alone
Tornado

NEW TORNADO RIDE COMING IN 2018!
The Tornado literally is a park favorite. It is designed so the whole family can participate, and you control the ride. Eight arms holding 4 passengers each rotate counter-clockwise. The motor then raises the cars up, letting the riders fly through the air. Riders can add an intense "tornado" feeling by using the wheel to spin each individual car.
Height Requirements: 38″ with adult or 48″ to ride alone
Get a great deal through one of our hotel partners!